Know the 'watch out' points if cutting your grass silage early
25 April 2017
Know the 'watch out' points if cutting grass silage early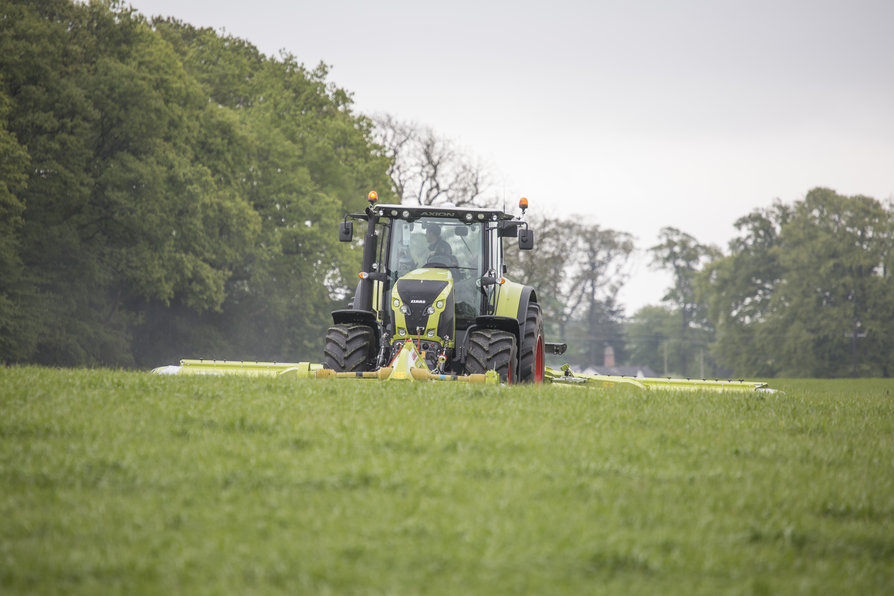 The mild start to spring this season and resulting grass growth might make it tempting to cut first cut grass silage early. But be warned …
While there's nothing wrong with cutting early if grass is in suitable condition, there are certainly a number of 'watch out' points.
Many of these relate to fermentation.
Remember, fermentation is the process whereby sugars in grass are converted to beneficial acid to lower the pH and 'pickle' it – to stop the growth of undesirable microbes and preserve dry matter and nutrients.
It's a crucial process, and you want fermentation to be as fast and efficient as possible.
Knowing the 'watch out' points in advance means you'll be better prepared.
So what are the risks if you do cut your grass silage early?
Risk of high nitrates
Cutting grass early increases the risk that crops won't have had a chance to fully utilise any nitrogen applied as slurry or granular fertiliser, potentially leading to high nitrates at harvest.
Excess nitrates reduce crop dry matter and sugar contents, and increase buffering capacity which slows down acidification and increases sugar requirements, all of which increase the risk of a poor fermentation.
High nitrates can also lead to the production of poisonous 'silo gas'.
Additionally, if crops remain contaminated with slurry, this carries undesirable bacteria such as clostridia and enterobacteria into the clamp, which again increase the chance of a poorer fermentation.
Risk of low sugars
Even if the weather has been good, sunlight intensity in April typically isn't as high as in May.
And since sunlight drives the production of sugars through photosynthesis, it follows that sugar levels won't be as high as in crops cut closer to heading.
This is important because there must be sufficient sugar in the crop to produce the amount of beneficial acid needed to preserve the forage. Otherwise dry matter tonnage and quality will suffer.
Risk of low fibre
Cutting early also means the proportion of leafy, wetter growth in the silage will be higher, and there will be less fibre.
Not only does this increase the risk of silage slumping in the clamp, but crops that are lower in dry matter actually require more sugar to ensile them successfully. So again, another point to watch.
So what can be done?
First of all, don't be too 'trigger happy' with the mower.
Just because a neighbour is cutting doesn't mean your grass is ready. However, if you do decide to cut early, make sure you minimise all the above risks.
For example, get grass tested to check that residual nitrate levels aren't too high – you want a nitrate-N of less than 0.1%DM.
Also, mow grass in late morning, rather than cutting earlier. It gives the crop more chance to produce extra sugar, and helps with evaporation of surface moisture.
And make sure you wilt to a target dry matter of 28-32%, or possibly higher. This not only minimises the risk of silage slumping, but also improves the chance of a better fermentation, by reducing the amount of sugar required.
Using a proven silage additive
Proven. Proven. Proven!
Linked to achieving the best possible fermentation, using a quality silage additive makes sense even with a normal cutting date. But if you're cutting earlier, with all these fermentation risks, it's even more of a 'no brainer'.
Used correctly, a quality Ecosyl additive stacks the odds in your favour by applying a whopping 1 million beneficial bacteria per gram of forage treated!
These bacteria are specially selected and proven to deliver fast and efficient fermentation results.
The Volac range of Ecosyl silage additives is effective in maintaining the nutritional quality of silage, whether clamp, big bale, maize or whole crop. Find out more here.
Ready to start using our products? You can now place your order online here.
Improve your silage production with Cut to Clamp

Cut to Clamp is a new initiative from Volac, which aims to raise the profile of good silage as a vital part of modern farming, showing how it can really make a difference to overall farm efficiency and profitability.
With step-by-step guides, top tips and video resources for each of the 6 key stages of silage production, we hope our latest initiative will help you to ensure you get the best out of your silage this season.
Visit Cut to Clamp to find out more.