Well done for new silage harvesting world record
12 May 2017
A new world record challenge to harvest 100 acres of grass in 10 minutes was broken on Saturday May 6 near Trim Co. Meath, just north of Dublin.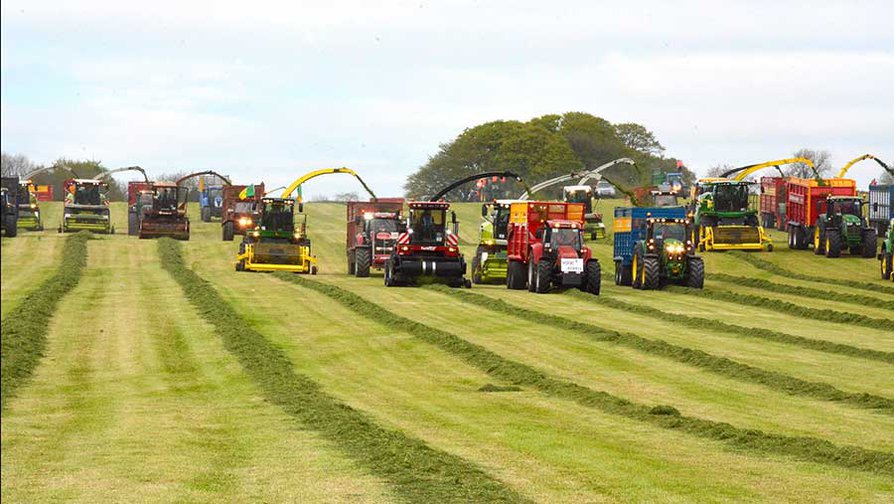 Organised by Combines for Charity, 'The Great Grass Event' saw over 100 forage harvesters from all over Ireland chomp their way through the grass, which had previously been mowed and tedded.
Among one of the more 'famous' machines within the vast array taking part was a restored 4WD Case IH 7400.
'The Charity Case' as it became known, was the idea of five friends – David and Andrew O'Donoghue, Kevin and Robert Shannon, and Paddy Brady – who had decided at the Combines for Charity Christmas party to buy and prepare an older machine ready for the event. Their aim was to raise as much money as possible for the good cause.
Volac and Ecosyl have a very strong presence in the region and David kindly allowed Volac to place an Ecosyl applicator on the Case.
An enormous number of spectators watched the impressive spectacle of machines as they got to work. People attended not just from Ireland but also the UK, Germany and as far away as Australia.
After seven minutes, the 100ac of grass on O'Sullivan's family farm near Kiltale GAA club was picked up and in the 113 trailers.
The Great Grass Event supported a number of charities – including Barnardos; Gary Kelly Cancer Support Centre (Drogheda); and the National Rehabilitation Hospital (Dun Laoghaire Enable Ireland and Laura Lynn Children's Hospice).
To everyone who took part, the Volac and Ecosyl teams would like to say a big WELL DONE !