Ecosyl treated silage improves performance and cuts costs
26 May 2016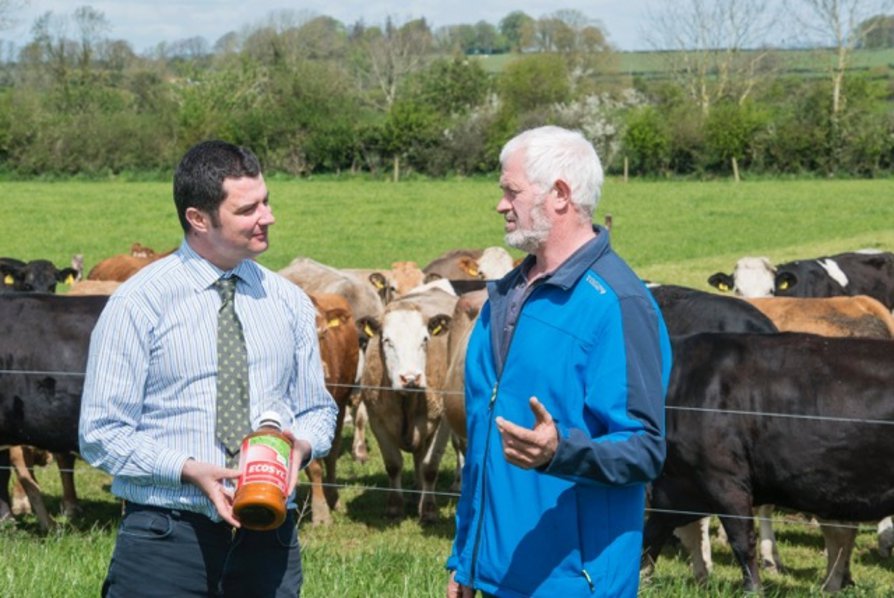 Tipperary suckler producer Noel Farrell (right) with Volac's Noel McGrath. Use of Ecosyl silage inoculant has cut Noel's meal bill and lifted animal performance.
The use of Ecosyl inoculant has boosted silage quality, cut feeding costs and lifted performance for Tipperary beef producer Noel Farrell.
Noel and his wife Joan run a 100-cow suckling enterprise at Rathgallen, Golden. The Simmental and Limousin cross cows are split half and half between spring and autumn calving. All males are brought to bull beef at 16 months.
All replacements come from the autumn calving herd. All other heifer progeny are reared to beef at 18 months.
Noel makes all his silage in round bales. Last year, he used Ecosyl inoculant for the first time and the results were excellent.
"The quality of the silage was excellent. Tests showed a DMD of 75 and the palatability was really good and little or no wastage," said Noel.
The real test was in animal performance and this is where Noel was really pleased.
"In previous years, we fed the autumn calving cows 2kg of meal a day over the winter. Last winter, because of the better quality silage, we were able to reduce this to 1 kg a day and the cows went out in the spring in probably better condition.
"While we didn't reduce the amount of meal fed to the weanling bulls and heifers, they performed better than in previous years and we had stronger animals coming out of the winter than ever before," he added.
He left five bales of silage untreated, "just to see if there was a difference in quality". While the DMD was not much different than that of the Ecosyl treated bales, "the silage was less palatable and animals were inclined to leave it behind them."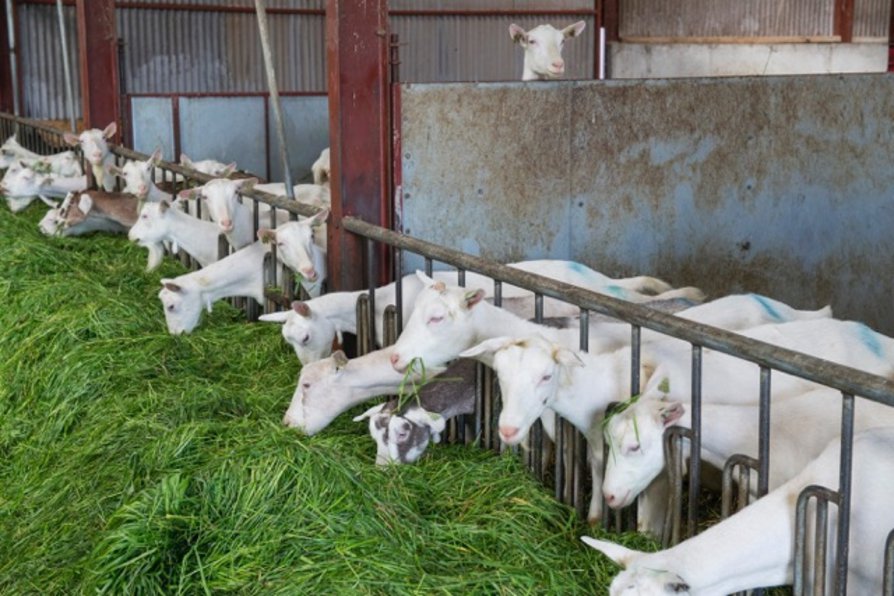 The use of Double Action Ecobale on baled silage for the Farrell goat herd has eliminated the incidence of listeria. The goats are zero grazed indoors between March and November.
Silage for goats sparked the move to Ecosyl
Noel and Joan Farrell also run a herd of 200 milking goats. It was actually the use of Ecobale inoculant on silage for the goats that got Noel thinking about using Ecosyl on silage for the cattle.
"We were losing a few goats every year because of listeria, due to moulds in silage. We have learned that the slightest bit of mould in silage is a definite no with goats.
"Since we started using Ecobale, we have had no cases of goats with listeria. The silage is also a lot sweeter and intakes are higher," said Noel.
According to Volac forage specialist Noel McGrath, Double Action Ecobale is tailor made for baled silage and haylage.
"As well as containing the unique MTD/1 strain of the lactic acid bacteria Lactobacillus plantarum, it also contains the bacteria Pediococcus pentosaceus and potassium sorbate, a safe, non-corrosive food and feed-approved preservative.
"This unique blend is proven to give improved fermentation and better aerobic stability, leading to higher quality silage that delivers better animal performance," said Noel.
The Farrells established their goat enterprise six years ago. "We didn't know where the Single Farm Payment was going and decided we needed another enterprise to protect our income."
The milk from the 200 goats is supplied to Cooleeney Farmhouse Cheese, run by the Maher family in Moyne, near Thurles.
Milking the goats is a 365 days a year operation. With the 100-cow suckling enterprise, Noel and Joan are busy people. They get vital support at weekends and during school holidays from their three sons, who are in full-time education.
One is a student at Teagasc's Kildalton agricultural college. A second is studying veterinary medicine in UCD while the third is attending Rockwell college secondary school.
A threefold return on investment
"Research in Ireland and elsewhere has found that every euro spent on treating silage with Ecosyl inoculant gave a return of at least three euro in increased milk yield and animal performance," said Volac forage specialist Noel McGrath.
"Ecosyl contains the unique MTD/1 strain of the lactic acid bacteria Lactobacillus plantarum. It is guaranteed to deliver one million of these unique bacteria per gram of grass, leading to a rapid fall in the pH of the silage thereby bringing about fast, efficient fermentation," said Noel.
He said that Ecosyl is backed by more independent research than any other silage additive.
"Twenty six independent trials showed that it increased silage digestibility by an average of three units. And 34 independent trials have shown that Ecosyl treatment leads to an increase of 5% in silage dry matter intake by animals.
"Fifteen international dairy trials, four of which were conducted in Ireland, showed that Ecosyl-treated silage led to an increase in milk production of 1.2 litres/cow/day. And a further 19 trials showed that Ecosyl-treated silage gave an increase of 15% in daily liveweight gain in growing animals," he added.
Available in liquid or dry form
Ecosyl is available in bottles for liquid application or in a 20kg bag for dry application. Each bottle or bag treats 100 tonnes of silage.
A wide range of state-of-the-art applicators are available for both liquid and dry form. The range includes applicators specifically developed for self-propelled harvesters, trailed harvesters, forage wagons, round balers and big square balers.
All applicators are easy to fit and come with fully variable in-cab controls. Contact us for further information.