Ultra-low volume brings additive benefits for contractor and customer
16 August 2017
Being able to apply a silage additive in an ultra-low volume of water not only benefits his own business but also his customers, believes one Shropshire contractor.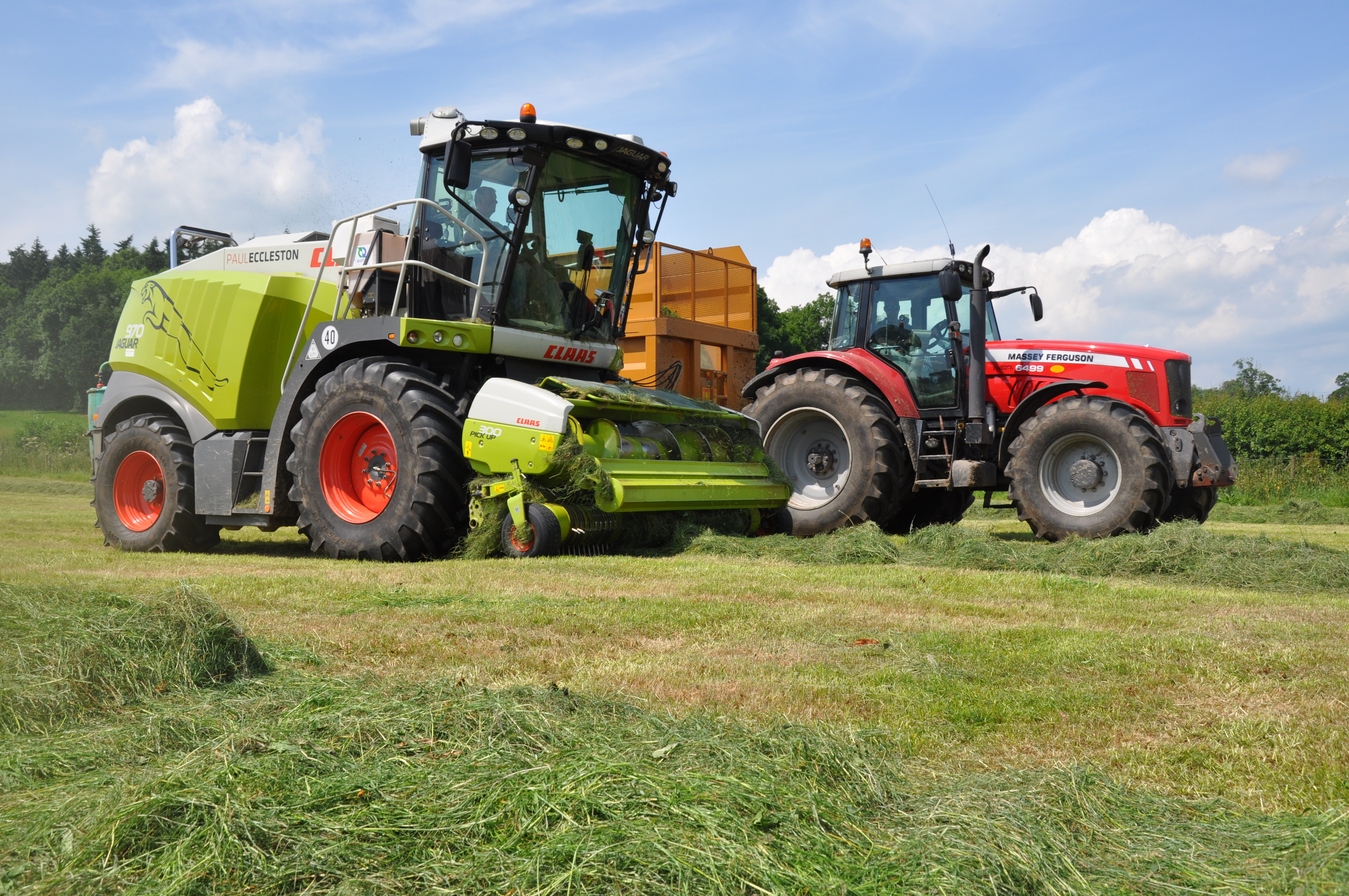 Using silage additives to improve silage quality
Silage additive use in his area is definitely increasing, reckons Paul Eccleston of Paul Eccleston Contracting, based near Oswestry, north west Shropshire.
Operating in a mixed livestock and arable area, he offers a range of services to both sectors. For silage-making, these include mowing, tedding, harvesting and carting, and also extend to silage clamp activities – such as supplying a tractor with a roller for consolidating, and even sheeting up.
But while Paul Eccleston has seen a number of changes in silage additive use during his 32 years in business, he reckons one of the biggest practical innovations has been in being able to apply certain additives in an ultra-low volume (ULV) of water – down to just 1% of the traditional water volume used.
"We carry out grass, wholecrop and maize silaging," explains Paul, who operates as a sole trader but also hires in help and services as needed.
"In total, we harvest about 6,000 acres a year. Of this, 1,000 to 1,200 acres are maize, 500 are wholecrop and the rest grass. I've had a self-propelled forage harvester since 1991 – it was one of the first in the area," he adds.
Currently running a Claas Jaguar 970 self-propelled forage harvester, Paul reckons farmers in his area have definitely swung to taking more cuts of grass silage in a bid to improve quality over the last two to three years, with silage additive use also climbing.
Farmers have been taking three to four cuts a year, where they used to take two to three. Most people put an additive on these days as they're trying to get more milk out of forage, rather than buying in feed.
I always have additive in stock. Customers can then have it applied as they need it, rather than buying it in themselves and risking having some left over. I've been using ULV application for the best part of a decade," he adds.
The benefits of ULV application
As an example of the scale of water volume reduction with ULV, Paul says compared to a previously-used conventional application, in which additive was applied in 2 litres of water per tonne of forage, by using ULV this has been slashed to just 20 ml per tonne in the case of an Ecosyl treatment he offers.
Both of these are designed to maintain a dose of 1 million beneficial lactic acid bacteria applied per gram of forage treated, says Ecosyl silage specialist, Derek Nelson, but the reduced water volume brings added benefits from not having to fetch and carry so much water.
From a practical viewpoint, less water means substantial time savings in the field, says Paul Eccleston, particularly useful when the forager is working flat out.
"We haven't got to keep stopping to fill up," Paul explains. "Before ULV I used to have to carry two, 200 litre drums of water on the back of the machine. We had to stop every 20 acres to refill the drums.
With ULV I carry a lot less water and just mix up as needed. Ecosyl comes in a two-litre bottle with the additive powder in the bottom. You just fill the bottle with water, give it a shake and pour it in the machine. I could put enough in the machine to go all day. But besides being easier for me, it's also easier for the customer," he adds.
"With conventional volume application, the farmer can be constantly having to mix up additive and bring it out to the field. Some farmers can spend the whole day mixing and carting additive," he notes.
Without having to do this, he says customers can spend more time at the silage clamp on activities such as consolidating, which is another important aspect to get right if looking to produce good silage, or they can trailer silage back to the clamp and save themselves money.
Additionally, he says having to fetch and carry less water has become particularly beneficial for farmers as farm size has increased. "They often graze fields closer to the holding, but rent extra ground for taking silage off further away. That means they have to lug water even further."
Also, with less weight of water on-board the forager, there's less risk of field compaction for customers, he points out.
Farmers used to be sceptical about ULV, but generally not now. Some farmers ask: how can it work applying such a small amount? But newer ULV applicators are brilliant – very accurate. I've done thousands of tonnes this way.
"The additive is dribbled onto the forage as it passes beneath at high speed in the air stream created by the draught of the harvester knives. The forage is also mixed up further when it goes into the trailer and it's mixed up again as it goes into the silage pit.
For the farmer, an additive definitely improves the quality of the silage and stops it going mouldy. People ask for Ecosyl. I have some farmers who always put additive on and others who only sometimes use one but then say they should have put one on when they've missed it out.
Ecosyl silage additives approved for ULV use
Applying a silage additive in ultra-low volume offers multiple benefits, says Ecosyl silage expert, Derek Nelson. But before launching into it, check the additive is approved for ULV application, he stresses.
"Some additives simply can't be applied this way," says Mr Nelson. "However, for most of the main forage crops, it should be possible to find an additive that can be. It's just a case of checking beforehand," he adds.
"With the fast work rates of modern forage harvesters, the last thing you want are delays stopping to fill up with water.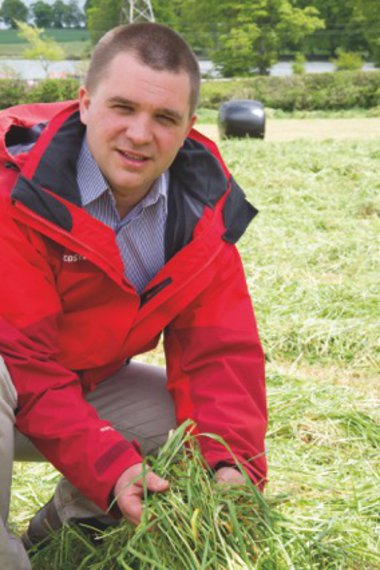 However, with a ULV application being in millilitres of water rather than litres, it's crucial the additive still works as it's supposed to. For a start, the beneficial bacteria in the additive must remain viable in such a small quantity of water. Also, the product must maintain an even application of the forage in the machine, and it must produce the same level of fermentation in the clamp. You can't just assume that all additives will pass all these tests.
In the case of MTD/1 bacteria in Ecosyl, there has been a huge amount of research to check these areas; trials have shown no significant difference whether applied using ULV or conventionally.
"ULV maintained accurate, even application of the required number of 1 million bacteria per gram of forage, and there was no difference in the fermentation – with both application methods producing significantly better silage than the untreated with a lower pH, a higher lactic acid content, less breakdown of protein and reduced dry matter losses."
In addition, Mr Nelson says, once mixed for ULV, the treatment remains stable for two days at ambient temperature, and can be stored refrigerated for up to 10 days. "That's useful if harvest is delayed after it's been mixed up.
As well as research on the additive, the Ecosyler ULV applicator itself has been engineered for precise delivery of product. It achieves an even distribution by atomising the ULV liquid in the forage harvester's airflow. It's based around technology used in medicine and crop protection," he notes.
"As well as ULV being more efficient for the contractor, harvesting more acres per day using ULV increases the chance of harvesting crops in optimum condition for the customer, for example if the weather breaks."
Ecosyl products suitable for ULV application are Ecosyl 100 for clamped grass and legumes, and EcoCool for forages at risk of aerobic spoilage, such as maize, wholecrop cereals, and higher dry matter grass silage, Mr Nelson adds.
Find out more about Ecosyl 100
The Ecosyler is an Ultra Low Volume (ULV) system which has been developed especially for the application of Ecosyl 100 at 20 ml/t of forage using self-propelled harvesters. Find out more today.
Ready to start using Ecosyl? Head on over to our order form.