It has been a challenging year for farmers up and down the country and we want to offer you our thanks and support.
We also want to help you make the most of your silage in 2021.
Good practice in silage production and the use of a proven silage additive, can give you greater control over what happens in your clamp and really make a difference to your overall farm efficiency and profitability.
So, for a limited time only you can take advantage of our early order offer on Ecosyl and Ecocool - buy 10 bottles get 1 completely free!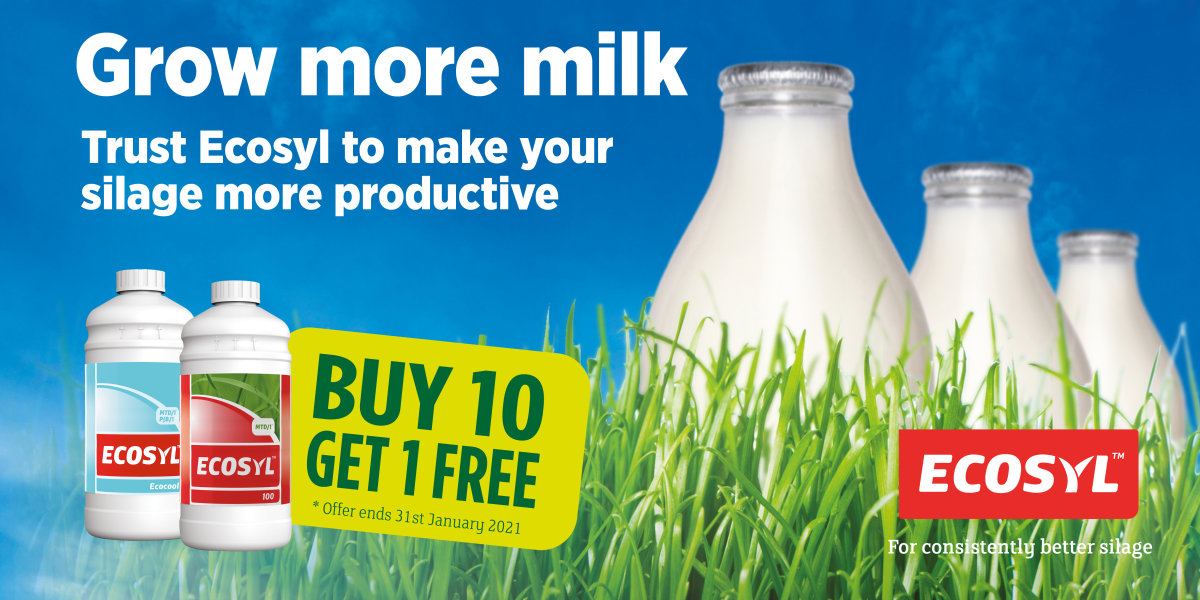 *Offer ends 31st January 2021
Why Ecosyl?
Ecosyl 100 is ideal for a wide range of crops and ensiling conditions. It has been thoroughly proven to better fermentation and animal performance. Ecosyl 100 contains MTD/1 - a special strain of bacteria which is only found in the Ecosyl range of silage additives.
Faster, more efficient fermentation
More nitrogen preserved as true protein
Improved aerobic stability
Reduced heating and waste
Less risk of mycotoxins
Lower DM losses
Why Ecocool?
Ecocool is for use with grass, maize, legumes and cereal/legume bi-crops at risk of aerobic spoilage. It combines two unique bacterial strains in one inoculant, Lactobacillus plantarum strain MTD/1 for improved fermentation and Lactobacillus buchneri strain PJB/1 for improved aerobic stability, giving you more better quality silage to feed.
Faster, more efficient fermentation
More nitrogen preserved as true protein
Improved aerobic stability
Reduced heating and waste
Less risk of mycotoxins
Lower DM losses